Product Tested
Click above for larger image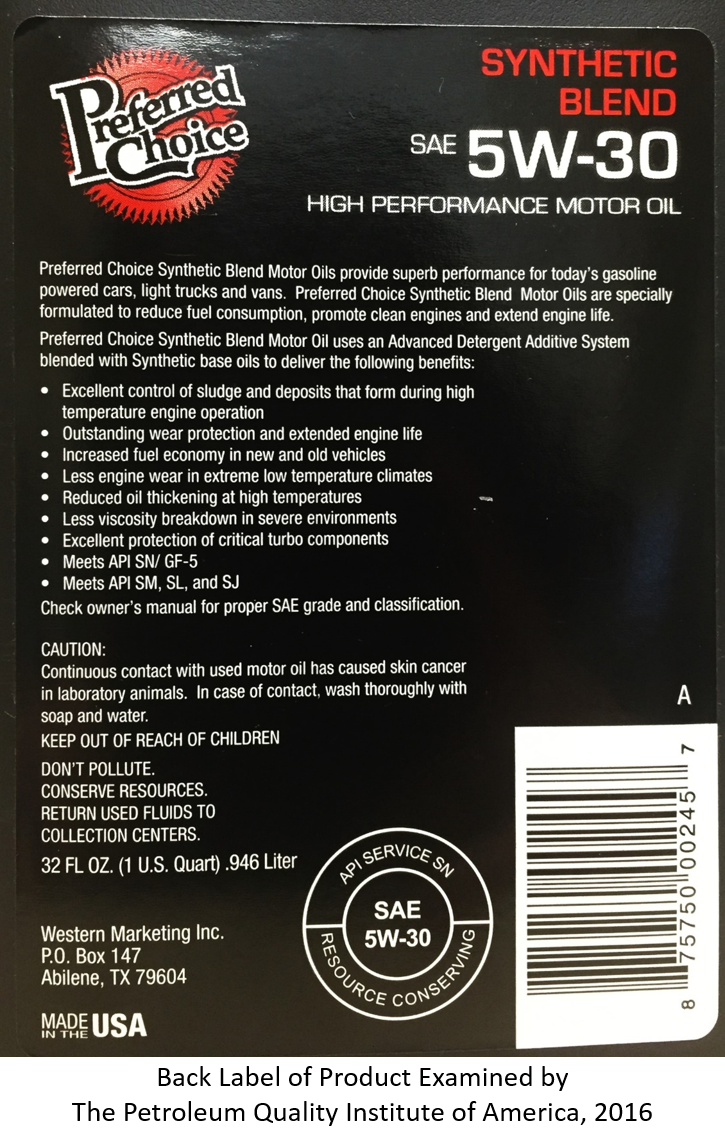 Click above for larger image
Western Marketing Inc.
Company and Product Information
Corporate Office:
Western Marketing Inc.
1010 South Access Road
Tye, TX 79563

Website(s): www.westmktg.com
Founded in 1953, Western Marketing, Inc., has been a distributor of petroleum products for over 60 years. Originally founded by the W. P. Wright family, Western Marketing, Inc., was purchased in 1990 by local Abilene entrepreneurs John R. Thacker and Richard N. Hasten, who operated it for two decades. In 2010, two Dallas-based private equity organizations, Wingate Partners and CrimStone Partners, acquired WMI and have continued the company's tradition of expanding its distribution facilities, offering new products,  and investing in its delivery fleet.

Western Marketing Inc. is a multi-branded lubricant distributor serving customers across seven states with an emphasis on truck fleets, agricultural, automotive repair shops, car dealerships, gas engine oil users, manufacturing plants and wind turbine sectors. Its sixth sales location, serving Dallas-Fort Worth, was opened March 2014.
Source: www.westmktg.com/about-wmi
PETROLEUM QUALITY INSTITUTE OF AMERICA TEST PROGRAM
The Petroleum Quality Institute of America (PQIA) is an independent resource for information and insights on the quality of lubricants in the marketplace. Our mission is to serve the consumer of lubricants by randomly sampling and independently testing lubricants taken from the field. Test results are posted along with the brand names on the PQIA website. This webpage provides an analysis on the brand detailed below.
The following are the test results for the sample examined.
Product: Preferred Choice Synthetic Blend
Viscosity Grade: SAE 5W-30
Labeling: API SN/ILSAC GF-5
Marketed by: Western Marketing Inc.
Purchased at: Boise City, OK
Date of purchase: 4/13/2016
Website(s): www.westmktg.com
Test Results and Assessment:
The results of the tests conducted on this sample meet the SAE J300 specifications for the SAE Viscosity Grade listed on the product label, and are consistent with the listed API Service Categories.
Physical Properties
Elemental Analysis
Labeling
PHYSICAL TESTS (click for test details)
Standard
Preferred Choice
TBN, mg KOH/g (ASTM D2896)

7.13

Viscosity @ 100ºC, cSt (ASTM D445)
9.3 to <12.5

9.99

Viscosity @40ºC, cSt (ASTM D445)

57.70

Viscosity Index (ASTM D2270)

161

Viscosity @-30ºC mPa s (cP) (ASTM D5293)
6,600 Max

4,612

Volatility, mass % loss, 1 hr, @ 250ºC (ASTM D5800)
15 Max -c

12.4

ELEMENTAL ANALYSIS (click for test details)
Additives
Calcium

1,952

Magnesium

10

Phosphorus, ppm
600 to 800

773

Zinc, ppm

832

Molybdenum, ppm

41

Barium, ppm

<1

Boron, ppm

196

Silicon, ppm

4

Potassium, ppm

<5

Manganese, ppm

<1

Titanium, ppm

<1

Copper, ppm

<1

Sodium, ppm

<5

Vanadium, ppm

<1

Contaminants
Silver, ppm

<1

Aluminum, ppm

2

Chromium, ppm

<1

Iron, ppm

<1

Nickel, ppm

<1

Lead, ppm

<1

Antimony, ppm

<1

Tin, ppm

<1

Standards, shown in yellow are established by API, SAE and others.
Test Method for metal analysis is ASTM D5185.
This specification is expressed to two significant figures, therefore results up to 15.5 are considered on specification.